"American Armor" Steel Crane Mats are made of high-grade American Steel (JDS) which means Just Domestic Steel, built in standard or custom sizes designed to handle cranes from 200T-500T.
Mats come with a compliance letter confirmed and stamped by a Registered Professional Engineer.
20 Year Warranty including internal rust, and lifetime customer support.
Mats are engineered to meet and exceed AISC Load Resistance Factor Design.
All welding is done by our American Welding Society (AWS) Certified Welders. All welds meet the requirements of AWS D1.1 Structural Welding Code, an American National Standard.
Steel Identification Tags are welded to mats – no more guessing the weight, capacity, or serial number.
All Bigfoot low profile mats are designed to be lightweight and high strength to help save on transportation ease and cost.
Slip resistant surface.
Integrated lifting lugs are designed for fast and easy rigging; and you can lift a stack of four mats from the bottom mat's lugs. This has been engineered specifically for ease of deployment of Bigfoot's American Armor and are finished in high visibility Safety Yellow paint.
Optional additions include:
Custom Paint Colors
Mat Rack – Our mat rack allows for mats to be contained for easy storage, shipping, loading, and unloading. The rack comes with fork slots and lifting lugs.
Products
Products commonly used for the steel crane mats for cranes 200 to 500 tons industry.
Need a custom size? Bigfoot is a custom manufacturer for both wood and Custom Composite
Features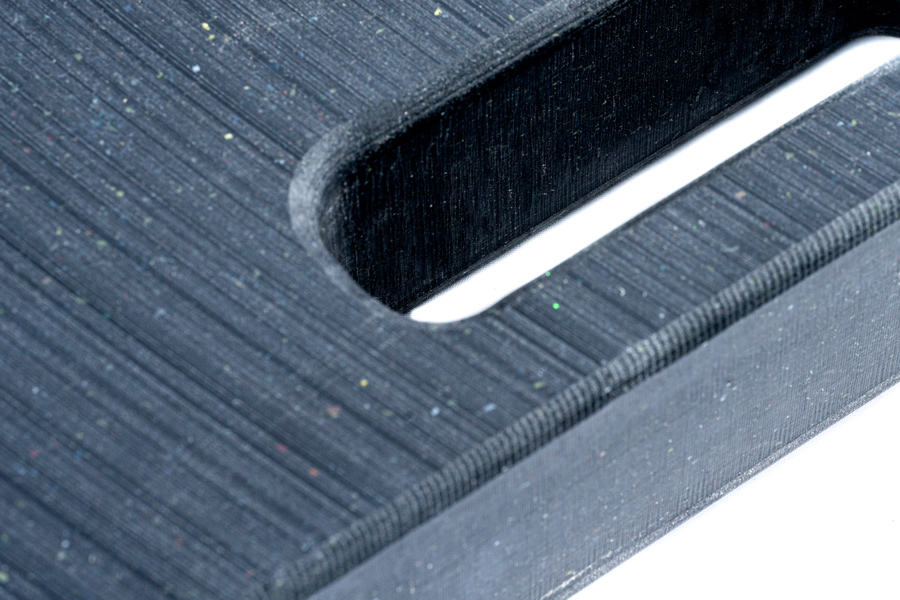 Standard Surface
Our standard surface is smooth for easy interaction with the outrigger foot and is easy to clean before storing for the next job.
Safety Grind
Rough grind of the pad for non slip surface on Black or Safety Orange Custom Composite.
Big Grip
The engineered design of the safety grips greatly reduces the chance of slipping by interlocking when stacked. Big Grip also digs into the ground if there are icy or slippery conditions.
Recess for Floats
Milled into the pad, custom sized to your float size on Black or Safety Orange Custom Composite.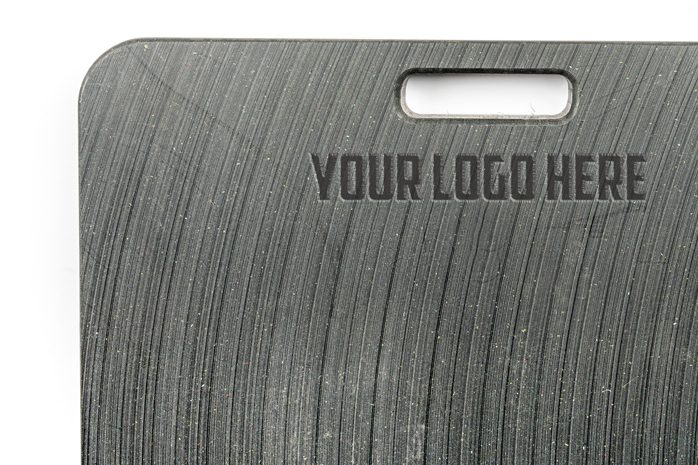 Custom Logo
Casting your logo, a unit number, or a phone number directly into your pad clearly identifies who and to what unit the pad belongs. Available on Birch and Composite Pads.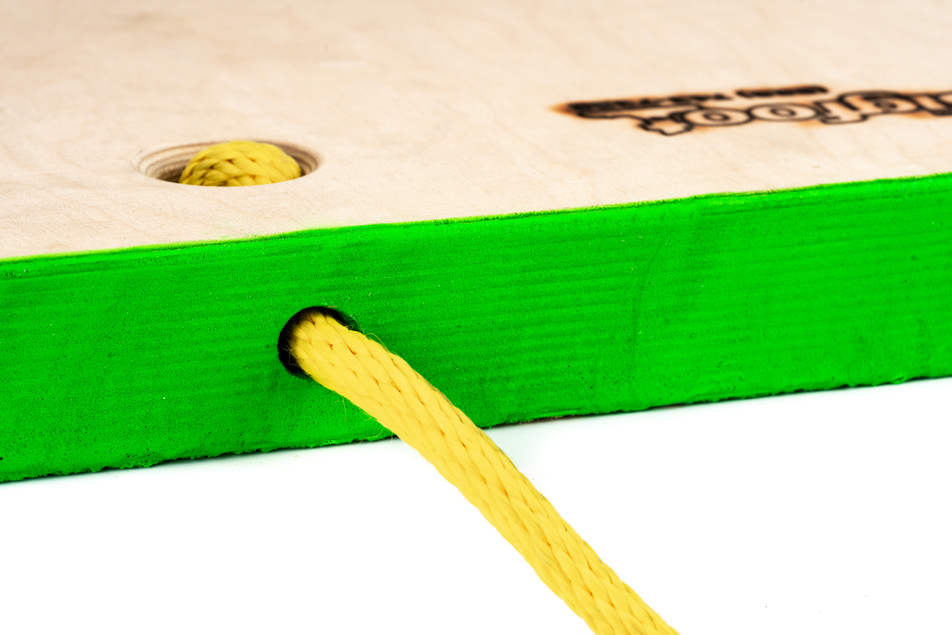 Added Edge Color for Safety
Added color provides an important element of visibility for your crews and also helps train their eye on that last pad still left on the ground before it's inadvertently left behind. Paint also adds one more layer of sealer on the wood.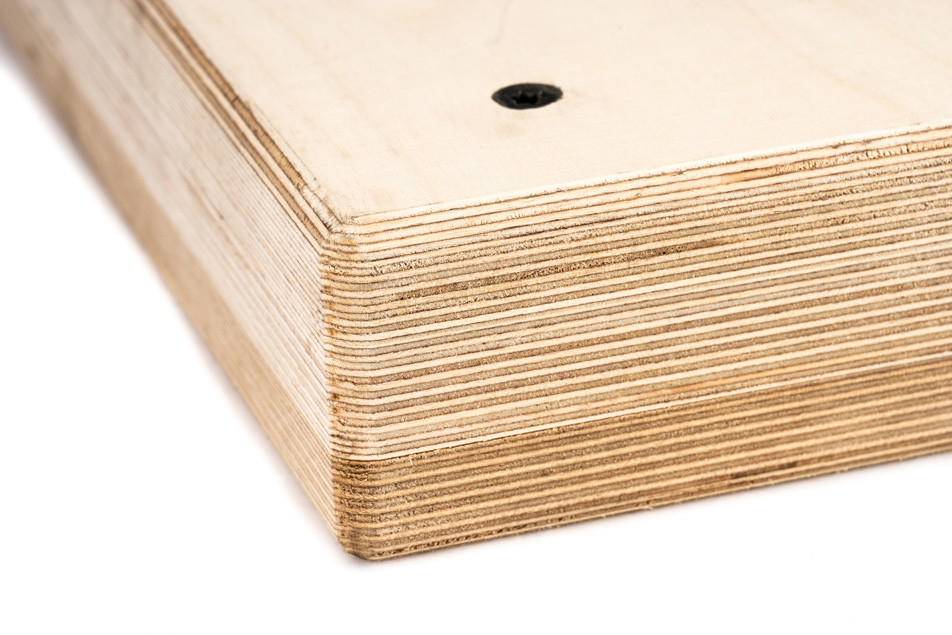 Added Water Seal Application
Our waterproofing wood sealers prevent water damage. The coating resists mildew and UV damage. Over the past 32 years, we've perfected this process using only the best wood sealers available.
Nylon Rope (Our Standard)
Nylon is the strongest of all ropes in common use. It is used for absorbing shock loads because it has the ability to return to its original length after being stretched. It also has abrasion resistance, plus the yellow makes it easier to identify the pad.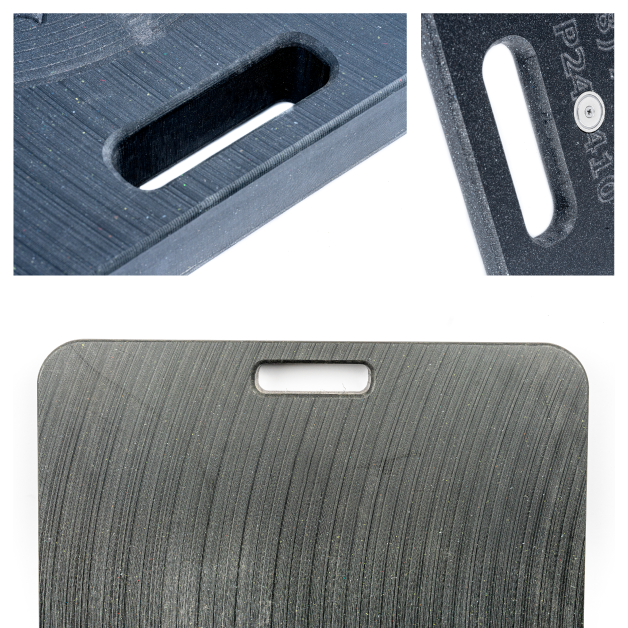 Internal Pad Handles
Handles that are milled directly into and out of the pads eliminate the need for external handle materials and provide plenty of room for a gloved hand to grasp.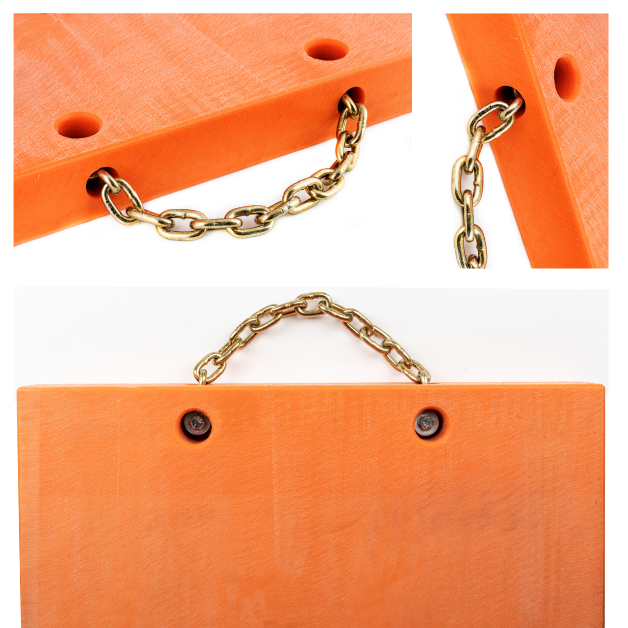 Safety Chain Handles
Some operators prefer the strength and stability of a metal chain. Available for heavy duty pad sizes 3" and up, these handles are rated at 3,100 lbs.
Metal Handles
Stainless Steel is strong, durable and guarantees long-lasting results.
LED Twilight Pad Light
Illuminating your work zone at night provides safety to everyone on the job site. Easily identifying your outrigger placements tells everyone where not to walk (or trip)! The lights are magnetic, waterproof, and come with a rechargeable battery and USB cable. Game changer!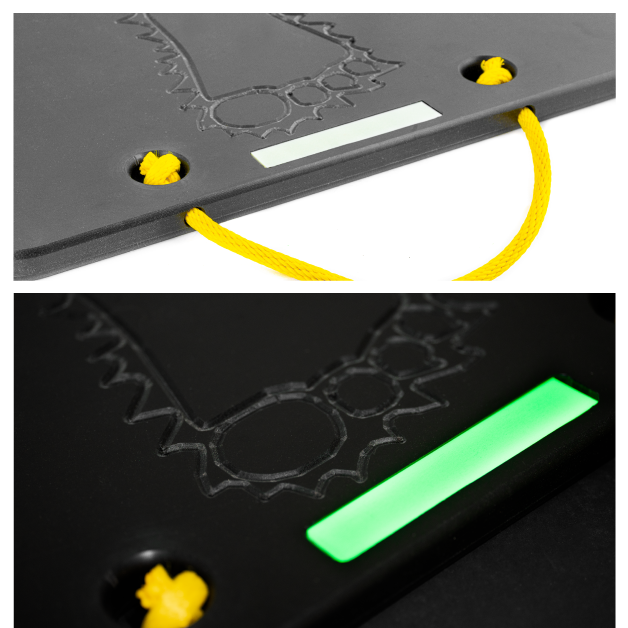 Guardian Glow Strip
Glow strips provide up to 8-10 hours of illumination from just 20 minutes of natural light exposure. Strips conform to multiple surfaces and add another layer of worksite safety.